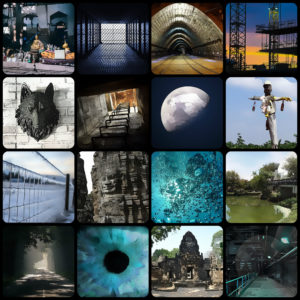 2018: A YEAR IN REVIEW
As 2018 comes to a close, I want to look back on a year of publications. Below is a selection of some of my stories and poems that have come out during the past year.
It is not a comprehensive list, but if you want to explore my published work this year, all of these are great starting points.
So, without further ado: here are twenty of my 2018 fiction publications!
"A Communicator With Animate Objects" in Issues of Tomorrow
A crisis of mental manipulation, a living temple floating in space, Hakon Ambrose and his perturbation dreams, a group of travelers seeking shelter in a bat-filled unconsciousness, oneirophagic chairs, and layers upon layers of betrayal.
"Urban Echoes" in The Rush
Poem. The streets are glass / The skies like unstacked shelves / Blindenlicht trembling over the city.
A castaway finds himself in a fog-shrouded city, and the scarecrows sing of a tyrant that rules it all.
"Am Lidrand" in Illumen
Poem. Civilization is reborn in water and starts a new aquatic life in a social and not technological speculation on how this might develop and feel."
"Tenebris Borealis" in Drabbledark
Drabble. Ayako and Sulawak enter a forest camp shrouded in shadow, with all its occupants vanished over night.
A space station far in the outer dark starts to drift from its orbit, and Kutter Saine wants to find out why–before it is too late.
Set in the same universe as "Phobosteus" (see below).
"A Lot Like Earth" in Chronos
Drabble. A team touches down on an alien planet and sends an expedition upriver: but soon, they encounter strange trails.
Baladrick tries to escape a city whose borders have vanished. When it rains, only dust falls from the sky, and the pre-formed people fight their little wars out on the streets.
Experimental. Oleska navigates a drowning, fragmented, non-linear cityscape.
Prequel to "Below the Cubicle Sea," published later this year in Kyanite Press (see below).
Drabble. As Gihan's tuk-tuk breaks down at night, somewhere out in the paddies, a strange man appears to help him.
"The Streets Turned Blue and Green" in Little Blue Marble
Cli-Fi. A piece of climate change fiction set in the Colombo of the future, where Aleyah, Nejuni, and Chandrani navigate the waterways and forage into an abandoned neighborhood of the city.
Has appeared in the Little Blue Marble 2018 Anthology as well.
A remote military outpost with a mysterious mission. When the new recruits arrive, events quickly grow more and more disturbing.
Poem. The sights and sounds of a ghostly city somewhere in Asia.
Chinese. A sprawling tale of two brothers and a forest, of horrors submerging from the outer dark and a labyrinthine spaceship filled with dreams and dead people. Larvosis theatre, effigy suits, and Flüstermeer drives. Apparitions, surgical suites, and one monstrous Phobosteus.
Set in the same universe as "Apparition" (see above).
"Below the Cubicle Sea" in Kyanite Press
Experimental. Oleska goes further and deeper as she journeys into the chasms of a drowned office building.
Sequel to "A Passage of Time," published earlier this year in Kyanite Press (see above).
Daryl owns a FuturePreview(TM), and he uses it every day to see all his possible futures. See for yourself how easy life can be!
A series of brief and ominous encounters on a space elevator that culminate in a quite unexpected event.
Podcast. Narrated by Tatiana Grey. Jenarah arrives with her family in an enormous refugee camp that floats above the clouds. As a strange sickness starts to spread, she suddenly finds herself responsible for not only her own survival, but that of her family as well.
Drabble. A changed lagoon and a fisherman returning without catch.
"From Within Mirrors" in Re-Quest
Prakan accompanies a mystic into the spine-chilling haunted ruins of Visal Phanitra.
Please check some of these stories out and support all these wonderful magazines and publishers!
In 2015, I began sending out my stories to the markets. Discounting my experimental pieces in "Die Novelle – Magazine for Experimentalism," I published six stories that year.
In 2016 and 2017, that number grew to around sixteen each year, plus my German novel "Das Maskenhandwerk​" with AAVAA-Verlag​.
This last year, it has been at least twenty-five, with many additional ones already slated for 2019 (plus more than two dozen articles, a research paper, a number of reviews, videos, and four installments for an upcoming interactive fiction project).
Through a mountain of rejections, I managed to dig a tunnel and see some light: and I am extremely grateful to all the wonderful people who supported me (most of all my amazing wife Vositha Wijenayake​, who may often find me stressed for no apparent reason), who edited my work (shout-out to Daniel Ableev​), who gave me feedback, and who took a chance with my stories and published them; and of course to everyone who read those stories, commented on them, reviewed them, liked them, or wrote about them.
Thank you all so much! It has been a truly fantastic year for my writing, and I am looking forward to an even better 2019!
Publication Date: