Theatre Review: PatriANarchy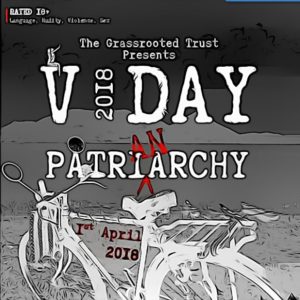 Theatre Review: PatriANarchy
On April 1st, 2018, Grassrooted presented "V Day 2018: PatriANarchy" at the re-purposed warehouse IdeaHell in Colombo 3. Nine short plays written by Paba Deshapriya, Dharini Priscilla, and Hans Billimoria were staged by a large cast of performers within two hours to explore questions of gender, cultural values, and violence.
The setup of I
deaHell is basically an arena stage, and the action moves to a different corner with each play to make the best use out of this space. There is little physical action: the plays are mostly monologues and dialogues in place, only the last play shows a larger street/shop scene with a bigger cast of characters.
From a technical perspective, all plays excel: the actors know how to speak and are completely in character, the choreography (including the dance routine that revolves around gang rapes) is thought out and executed well, the implementation of audio recordings and live video functions seamlessly.
Content-wise, there is a curious one-dimensionality to most of the performances: they have one level, mostly that of a straight-up parody or satire. Within this level, they are working and achieve the intended effect: but there are no additional layers, very little for the audience to unpack or rub against.
"Gang Bang Jang", for example, consists of a mock newscast reporting on protests against gang rapes and rape porn by a grotesquely biased reporter, ending in the aforementioned gang rape dance routine. It is a
n exaggerated parody of widespread male attitudes and the government's failure to act, which almost plays rape for laughs and is completely naturalistic: there is no disassociation, no meta level, no juxtaposition between form and content.
"Boobs Have Eyes" with Gehan Blok, on the other hand, has at least a rudimentary second layer by having the performer recite his monologue without wearing pants and–if I saw correctly–with shaved legs, but it doesn't make much of this.
A point of critique is the numerical dominance of male performers, which outnumber women by something like 3 to 1, and the heavy focus on a male perspective of gender issues. Even though male violence, the male gaze, male entitlement, and male victimization are thematized and problematized, it is still mostly men discussing these issues and thereby reducing women to supporting players. It doesn't help that both directors are male, although this is of course common in theatre: but especially at an event focusing on gender, even if its called PatriAN
archy, a more balanced cast could be expected.
That said, I did enjoy the performances and found some of them superbly executed. The last piece, "Somarame", created a lot of laughs, some of whom got lost in translation for me, and (semi-)monologues like "Boobs Have Eyes" or "Interpreter of Dreams" were captivating and well written. "Saint Nick-less" with Michelle Herft and Dominic Keller was a stand-out dialogue about female genital mutilation from the view of two parents, and there was no play that didn't hold my attention. The issues discussed here are real and important: additional dimensions in writing and presentation can only make this discussion more productive and lasting than a "mere" fun Sunday evening at the theatre.
Gender, Sri Lanka, Theatre Review
Publication Date: